Click on  » Artisans – Commerçants – Producteurs » return to the menu

Artisans – Commerçants – Producteurs
– The farm 'de la Biquette' (Goat's farm)
The Ondet family welcome you to their Goat farm, which was first open in 1982. They offer chees made from goat's milk – the well-known 'St Maure' appellation. There is also their new shop, Savonnerie Bulles de Lait, offering natural soap made from goat's milk.
ONDET Julien
Moulin de Gruteau
37220 Crissay sur Manse
tél : 02 47 58 55 31
Open from Monday to Saturday, 9am to 12.30pm. Available at the market in Langeais on Sundays. There is an automatic vending machine available 24 hours a day, 7 days a week.
Videos -> http://www.francetvinfo.fr/culture/…
– L' Auberge de Crissay
Restaurant – Bar
Concert evenings
The Auberge is ideally situated with terraces, two dining areas and a wonderful panoramic view over the valley. The excellent salads served at the Auberge's restaurant, which are second to none, will satisfy any appetite !! The bar menu is based on regional produce (real ale, local wines, fruit juices made from regional products….). The public concerts can also be booked for private functions (club meetings, birthdays, anniversaries..).
1 rue de Chinon 37220 Crissay sur Manse – Tél : 02 47 58 58 11
Vidéos -> http://lci.tf1.fr/france/societe/5-…
More information…. https://www.facebook.com/aubergedec…
– Crissay's honey
Taking over from Phillipe Laubigeau, the honey shop can be found opposite the church. Here you will find honey from their local hives (rapeseed, sunflower, forest, acacia), also other products such as spiced bread, marmalade and other local products made in our workshop at the heart of the village.
2, rue de l'église 37220 Crissay sur Manse -tel:02 47 93 17 36 – Mobile:06 78 12 48 08
More information…. > http://laubigeau.wix.com/miel
Open every day except Tuesdays from May to October, and except Mondays and Tuesdays from November to April.
(It is best to telephone before, in case they are working with the hives or preparing the produce !) .
– The wines of « Pascal Ricotier »
Vin de Pays – red, rosé, cabenet franc, white chardonnay, AOC Chinon red, rosé
Pas­cal Ricotier : 7, rue de Chi­non 37220 CRISSAY-?SUR-?MANSE
tél. 02 47 58 58 42 —mobile : 06 13 14 34 93
For more information visit : > http://www.ricotier.fr/
– Atelier-Galerie des Collages
Mélanie's gallery in Crissay is an annex of 'Rouge Pistache', her workshop situated at 11 rue du Petit saint Martin in the old part of Tours. Melanie is an artist, plastic specialist, illustrator and stage designer and her creations and collages are exhibited in the gallery at Crissay.
19 rue du château 37220 CRISSAY SUR MANSE
Tel:02-47-58-63-87 for the gallery
Mélanie:mobile:06-23-06-26-27
Open from Easter to 1 November weekends and by appointment.
More information…> http://melanielusseault.blogspot.com/ .
– Librairie Ancienne J.-Marc Dechaud
M. Dechaud buys, sells and is an expert on old books, and has a collection dating from the 15th to the 20th century. He is a member of SLAM (which is the national association of ancient and modern bookshops), and an expert within the CNES (National chamber of exerts specialising in object of art and collections of art).
10, rue de Chinon
37220 CRISSAY SUR MANSE
TEL / FAX : 02 47 97 01 40
More information….> https://www.franceantiq.fr/slam/dechaud
http://www.slam-livre.fr/
http://www.experts-cnes.fr/
– M2C -Maillet Concept Commercial
M2C supports the development of commercial enterprises. Having a very flexible contract with the enterprises, M2C takes charge of their commercial functions, and analyses their needs and objectives within the commercial market.
The services of M2C are adjustable according to the needs of their clients. M2C is a font of information.
3 rue de Chinon 37 220 Crissay sur Manse
tél : 02 47 58 75 23
More information….> http://m2c-conseils.fr/
– Well maintenance
Cleaning – Scrubbing
Pump Installation
New wells
Echerseau Matthieu
13 rue de Rochebourdeau
37220 Crissay sur Manse
tél : 02 36 29 91 72
06 07 25 35 33
Self-employed small businesses :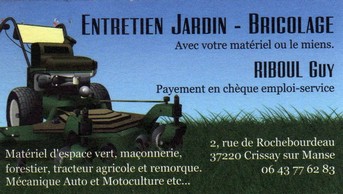 House, garden and machinery maintenance
RIBOUL Guy
2 Rue de Rochebourdeau 37220 Crissay sur Manse
tél : 06 43 77 62 83
Chèque emploi-service
.

Click on  » Artisans – Commerçants – Producteurs » return to the menu

 » Artisans – Commerçants – Producteurs »